PARSON TO PERSON: "THE VALUE OF BEING QUIET!"
I'm very frustrated as I write this! Not long ago I bought a box of floppy discs to use in sending Spire info to the editors. I put it where I could put my hands on it when I needed it - the only trouble is I don't remember where that place is. I've searched all over my study but to no avail.
It reminds me of the story of a Vermont farmer who lost his watch as he was helping with the annual chore of stocking the icehouse. He and his fellow workers stomped (carefully) all over the sawdust on the icehouse floor, used rakes, and poked into the dark corners with flashlights - all without success. Tired of their fruitless search the men went off to lunch. While they were gone a small boy slipped into the ice­house and found the watch. When the men came back, they asked him how he'd found it. The boy replied: "I just lay down on the sawdust and kept very still, and soon I heard the watch ticking."
Far too many of us these days waste our energies with much stomping and stirring about. In so doing we lose one of our most valu­able possessions - the strength that comes from fellowship with God. We don't deny Him; we just neglect Him and are too busy to bother. In fact, our very busyness keeps us from finding Him again. We go in for hob­bies. We visit the psychiatrist. We join clubs and go to meetings. We knock ourselves out in our scramble for dollars and happiness. All to no avail.
The trouble is we make too much noise ourselves. We easily ex­haust our own strength unless we're fortified by divine power. We find this as we learn to be patient enough and quiet enough before God. The season of Lent provides us 40 days to slow down, read the gospel stories of Jesus' last weeks and days, ponder as we sing the familiar Lenten hymns, get deeper into prayer, meditate in quiet, write in a journal, par­ticipate in special Lenten services, or find other ways to discover the spiritual value of being quiet before God. I hope you'll take advantage of them.
Well, it's lunch time. When I get back maybe I'll have remem­bered where I put those discs. If not, I may just stretch out on the carpet and be quiet so God can whisper the location in my ear. Have a quiet Lent! Listen for God! See you in church - a quiet place in a noisy world!
Pastor Bob
WORSHIP IN FEBRUARY
3rd Last Sunday After Epiphany/Transfiguration/Communion
Scripture: I. Corinthians 12:12-31
Message: "The Real Super Bowl!"
6th Ash Wednesday
Scripture: Joel 2:12-19
Message: "Gateway to Solemn Joy."
10th First Sunday in Lent
Scripture: Luke 4:1-13
Message: "Eavesdropping on a Tempting Conversation."
17th Second Sunday in Lent
Scripture: Philippians 3:4-14
Message: "The Positive Side of Suffering."
24th Third Sunday in Lent
Scripture: John 11:17-44
Message: "Unwrapping the Bandages."
Search Committee Report:

The Search Committee is happy to report that we are making some positive progress in the search for our new pastor. We have received several profiles from the denominational headquarters, the Church Herald advertisement, and even from the pastoral grapevine. Out of all that, there are a few that we feel might be a good match for us. Now we need to move the candidates off the paper and continue the process by interviewing them, first by phone, then in person. While these candidates may be looking for a new church, and we may like the way they sound on paper, they may not be interested in our particular church or in our location, etc. We ask for your continued prayers, support and patience as we all continue along this journey. We are grateful for your understanding during this process, for the advice and support from our supervisor Rev. Howard Smith, and for the continuing faithful leadership of Pastor Bob. Thank you.
Consistory Corner
------------------------------------------------------------------------------------
- Consistory voted to form a new committee called Stewardship. They will be looking for a cure to the annual budget deficit.

- Property and Maintenance has unearthed the problem causing the sewer smell and will be working to fix it-- ASAP.

- We have been watching the oil usage and are starting to see a substantial savings due to the new furnace and the zone heating system. We are also very thankful to all those who worked on the insulation projects which are adding to our savings.
________________________________________________________
Youth Group
Thank you to everyone for bringing in toiletries for our food pantry items for the past couple of months. We appreciate your support.
The February/March food pantry item(s) will be spaghetti and spaghetti sauce. The items collected will be used for the Women's Guild to assist with their Spaghetti Dinner on 4/12/08. Thank you for your help.
On March 4, 2008 will be our Brooks BBQ. Please sign up after church or call 338-4469 to place your order.
Our upcoming events: 2/3/08: Chili Sale for a Souper Bowl fund raiser
2/17/08: meeting
3/4/08: Brooks bar-b-que
3/16/08: meeting
3/22/08: Easter Dawn set up/Prep/pre-cook/rehearsal at 10am
3/23/08: Easter Dawn Service at 6:30am, Breakfast at 7:15am
4/12/08: Spaghetti Dinner
4/18/08: Youth Group rally @ Warwick
We will have information next month on how the sleepover at the Albany Museum went. Look for pictures on the bulletin board.
God Bless
And the winner was……. <![if !vml]>

<![endif]>
Congratulations goes to, Kelly Maggiore who was the winner of the bicycle that Rev Stickley donated for a fund raiser for the American Cancer Society. We were able to raise $100 from this raffle. Thank you, Rev for doing this and thank you for everyone who purchased tickets.
A new raffle……<![if !vml]>

<![endif]>
A hand made airplane made and donated by Mr. Hornbeck. The raffle is going on now. The drawing will be held on 2/24/08. Tickets are $1 each or 6 for $5. This is a fund raiser for the American Cancer Society. Get your tickets before it is too late. Thank you, Mr. Hornbeck for this donation.
*****************************************************
Bowl-A-Thon
WAS: January 20, 2008
WHERE: Hoe-Bowl on the Hill, Kingston, NY
TO BENEFIT: The American Cancer Society
Thank you to everyone that came out to bowl and support myself with my WISE Project and the American Cancer Society. A special thank you to Alex, Amy, Annie, Brandon, Charles, Chelsea, Dakota, Emily, Ireland, Kristen, Shannon, Sierra, Stanley, & Tanner who came out and bowled. We had fun and a good time was had by all! We were able to raise over $350 from this event!!
Thank you for your help & support!!
Women's Guild
We have sold out on the pecans that we were selling. Thank you to everyone that purchased them! I'm sure your pies & cookies were great!!
Thank you to everyone who purchased Poinsettia's!
The church looked great during the holidays and the Boys & Girls Club appreciates the support.
At a recent meeting we discussed our annual benevolences. This year we were able to donate $1,100 to the following groups, Family of Woodstock, Hospitality House, Hurley Rescue Squad, People's Place, Hospice, Youth Group, and the Salvation Army. We thank you for supporting us during the year, as we were able to support these groups!!
Our annual birthday party was held on January 20th after church. The tables where decorated lovely!! Thank you for everyone that attended this great and much looked forward to event. Also, thanks to the ladies/groups that decorated each table! Without each and every one of you this couldn't happen. People are already putting in for which table they want to decorate next year!!
The following should have appeared in the January issue,
however, it traveled for some time in "cyberspace"
before reaching its final destination!
The cards just kept coming and I could not believe how many were in the mail each day. Some Christmas Cards, some Get Well and Best Wishes, but cards like I could not believe, each one sharing the season or a concern for my well being after a trip to Albany and St. Pete's. To all of you I would like to say THANK YOU and I cannot print that big enough to express my deep gratitude for all your love and concern. Friends are the riches of the soul and I am one of the RICHEST people that I know. REV
You still can…
The quilt that I have been raising money for the American Cancer Society still has some spaces available for purchase. The quilt has over 200 blocks on it. If you want to purchase a block in honor or in memory of someone that has/had cancer here are the 4 different sizes that can be purchased:
2x4 $2
4x4 $4
2x10 $6
4x6 $8
Purchase of these blocks can be done in person or you can do this by mail. Please send me the block size, how you would like your block to read and a check made out to the American Cancer Society. My mailing address is 297 Marcott Rd, Kingston, NY 12401. Thank you for your support!! Katie Emrich
-------------------------------------------------------------------
Bottle Returns
WOW!!! WOW!!! WOW!!!! WOW!!!!
I asked, you responded and we both are helping people with cancer. I thank you!!! Please continue bringing in your empty cans & bottles. This fund raiser will continue until the end of May. Just bring in your empties to the box in Schadewald Hall. All of this benefits my WISE project for the American Cancer Society.
Thank you again, Katie Emrich
<![if !vml]>

<![endif]> Property and Maintenance:
We're insulated but we stink.
Bet we got your attention with that headline!! Don't worry, all is well. Read on…...
First the insulation:
The work to insulate our air handlers in the Sanctuary and Schadewald Hall attics is done. That was the last mandatory activity to be done for our heating system overhaul. This is good news! We hope you enjoy the new furnaces, we certainly like them.
Now for the stink part:
You may have noticed a distinct "aroma" around the church recently. It turns out there was a problem in our septic drainage system which caused an unwanted smell around here. We finally found the problem and have corrected it so our church is now ready for spring and the sweet smell of flowers. I'm sure our noses appreciate that.

As always, please contact Joe Ulrich or Gretchen Giles about property and maintenance questions or issues.
We appreciate any and all comments,
Joe Ulrich and Gretchen Giles
<![if !supportLineBreakNewLine]>
<![endif]>
Join Us For A Bus Trip To Lancaster, Pa.

A one-day bus trip to Lancaster, Pa. to see the Sight and Sound Theater production of "Daniel" is planned for April 16th, 2008. We will leave early in the morning (around 6:00 am), watch the spectacular performance, eat dinner at a restaurant in the area and return home about 11:00 pm.
If you are interested in joining us for this worthwhile adventure or have questions please sign up in Schadewald Hall after church on Sunday or call June Vanderlaan (876-3322) by Wednesday, February 20th. Cost, which includes bus, show, dinner and all gratuities, will be around $105.00 per adult. Teens and children are less. A deposit for half of the amount should be paid by February 25th.
Gardeners Beware!
We have recently started a Garden Club at the HRC Church. We have met after Sunday services for about one hour or so once a month. In November we made pumpkin arrangements for the Turkey Dinner and in December we made Christmas centerpieces for ourselves. We will be meeting this winter and spring to discuss gardening and problems we have, we'll have a plant exchange, we'll help each other with gardening when spring is here and maybe talk about container gardening. We'll also help the Berm Committee to keep "The Berm" weeded and blooming.
We would love to have more members (only 4-5 so far) and also hope to find some HRC members with gardening expertise. This is an informal group, not affiliated with any other Garden Clubs.
Hope to see you soon.
Ellen Richards, 331-0674
INTERESTED IN MEMBERSHIP?
We have a group of folks who've indicated their readiness to unite with our congregation. We're wondering if there might be others. If you too are ready to join the Hurley Church, or might be feeling nudged by God in that direction, or are interested in finding out more about the Reformed Church and this congregation please contact Pastor Bob right away. We'd like to hold an informational session early in the month, and receive new members on one of the last two Sundays in February.
------------------------------------------------------------------------------------
CONFIRMATION CLASS?
Pastor Bob is interested in finding out if there are young people, 7th grade and up, who would be interested in a communicant/confirmation class leading to church membership. The class would meet for about six weeks and would look into what it means to be a Christian, a church member, and a Reformed Christian. If there's enough interest, we'd like to begin in a few weeks, so please get in touch with Pastor Bob right away.
Mission Envelope Collections
Last year we began supporting selected mission and outreach organizations through our monthly Mission Collections. The selected missions included many local charities along with a few international RCA programs. Below is a list of the organizations we were able to support through your generous giving.
Mission Collections - 2007

Month

Name of Organization

Mission

Envelopes

Feb

Food Bank of the Hudson Valley

479.00

Mar

Rural & Migrant Ministry

119.00

May

People's Place

168.00

Jul/Aug

Mid-Hudson Hospice

190.00

Sept

Family Domestic Violence Services

238.00

Oct

One Great Hour of Sharing

554.00

Nov

RCA Give-A-Cow Program

394.19

Dec

Alternative Holiday Market

1,038.00

$3,180.19
We will continue to provide the congregation with opportunities for monthly contribution in 2008. For your convenience we have included monthly "Missions" envelopes in your offering boxes for those wishing to participate. Selected missions for each month will be announced in the bulletin and/or Spire. Please contact a committee member if you want to recommend a specific charity. Together we can make a difference!
Mission Committee: Carla Paton (chair), Bonnie Dumas, Lisa Longto
Lent – The Season of Renewal
In the infant years of the church, there was a long period of preparation that led up to one's baptism. It was a time observed through fasting, solitude, prayers and reflection. The one who was about to be baptized, then, was living between dying and birth between an end to the old self and a rebirth to new life as a child of God.
Lent begins on Ash Wednesday (Feb. 6th - Services at 7:30pm). We'll move through Lent being "cross-examined," arriving at Holy Week prepared for the passion of our Lord.
In Lent, as each of us lives between the tension of dying and birth, we are led by Christ into new possibilities for ourselves, our families, and our church. It was Martin Luther who suggested that repentance was a continual crawling back to the font, the baptismal womb-of-our-faith.
Our Lenten Journey can be a time when our lives are changed, and our Lord and His church are placed in proper relationship to one's total life.
2008 CONSISTORY COMMITTEE ASSIGNMENTS
Clerk: Lisa Longto Vice President: Frank Pinckney
Worship Committee: Chair, Cindy Sumerano, Hans Vought, Lisa Longto, Jerry Fink, Joyce Fink, Shirley Ruth
Chancel Guild: Chair, Shirley Ruth, Doris Alden, Linda Shook, Linda Dux, Barbara Kindt, Shirley Burns, Jerry & Joyce Fink, Helen Sgroi, Frieda Constant, Sheila Read, Cindy Sumerano (liaison)
Flower Calendar: Sheila Read
Program & Activity: Chair, Bonnie Dumas, Gretchen Giles, Natalie Woodard, Shirley Burns, Shirley Ruth
Women's Guild: Chair, Sandy Emrich; Jean Dussol, Treasurer; Shirley Ruth, Secretary
Prayer Chain: Chair, Debbie Zuill
Quilters: Natalie Woodard, Shirley Burns, Shirley Ruth, Helen Sgroi
Stone House Day Committee: Chair, Jim Craven, Pat Baker, Jon McGrew, Hal Hauck
Turkey Dinner: Chair, Joe Ulrich
Golf Tournament: Natalie Woodard, Joyce Pinckney, Glenn Decker, David Giles
Gardening Group: Chair, Ellen Richards, Linda Bognar, Kathy Hauck, Gay Gravina, Debbie Decker
Finance Committee: Chair, Dennis Horvers, Scot Stelter, Hal Hauck, Brian Donnelly, Doug Constant, Frank Pinckney
Mission Committee: Chair, Carla Paton, Lisa Longto, Kim Burgess, Bonnie Dumas
Property & Maintenance: Chairs, Gretchen Giles & Joe Ulrich, Hal Hauck, Scot Stelter, Frank Pinckney, Jerry Wyncoop, David Giles
Berm: Natalie Woodard, Ron Chrisey, Gretchen and David Giles, Debbie and Glenn Decker, Doris Alden, Ellen Richards, Jim Embree, Joyce and Frank Pinckney, Linda Shook, Shirley Burns, Shirley Ruth, Helen Sgroi, Frieda Constant, Wally Cook
Education Committee: Chair, Hans Vought, Carla Paton, Joyce Pinckney
Church School: Superintendent, Sherman Richards; Assistant Superintendent, Barbara Hornbeck
Youth Group: Chairs, Sandy Emrich, Lisa Longto
Relay for Life: Chair, Katie Emrich
Cradle Roll: Chair, Joyce Pinckney
Stewardship Committee: Chair, Hans Vought, Frank Pinckney, Hal Hauck, Jerry Wyncoop, Joe Ulrich
Classis Delegates: Frank Pinckney, Joe Ulrich, Hans Vought
This list is more than likely incomplete as we have many, many willing, quiet workers who go about the business of the church unbeknownst to anyone. If you are one of those quiet workers, would you let the office know of your involvement, and if you would like to continue to quietly help, we won't share your name publicly.
See a committee that you would like to be involved in or learn more about? Contact the office, or anyone on the committee, we would love to have you!
CHURCH FAMILY GIRLS LEARNING "How to Succeed…"
Audiences at Kingston High School's annual musical, "How to Succeed in Business Without Really Trying" will see three of our church family members on stage for the performances February 28 – March 2.
Alyssa Sumerano, Liz Wilson, and Ella Cattabiani, granddaughter of Elizabeth Askue, are rehearsing their parts in the comedy about the surprisingly rapid rise of a young man in a major corporation. The Broadway musical was made into a hit movie several years ago.
Don Kent
<![if !vml]>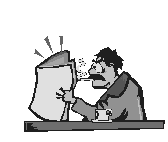 <![endif]>
SPIRE ARTICLE DEADLINES are the 20th of each Month. Anything received after that date will have to be placed in following edition. We appreciate your assistance in this matter.
HEROES IN OUR BACKYARD
One of the local "heroes" recognized by "King's Kids" on the anniversary of Martin Luther King's Birthday in January was Hurley Reformed Church family member, Glenn Decker, retired Commissioner of Social Services for Ulster County.
Among his valuable services as Commissioner were the priority he assigned to providing needed aid to poor and frail citizens of the County and increased access to health care and cancer screenings. He is a Legislative Ambassador to the Cancer Society and presently on our Pastoral Search Committee.
King's Kids is a young people's support program of the Pointe of Praise Church on Hurley Avenue.
Don Kent