PARSON TO PERSON "Jesus Style Relationships"
May and June are the months of the year when we're especially conscious of our human relationships. The following 10 guidelines may help you to relate better.
Be real

– Don't try to be like any other Christian or even Jesus. Don't try to be "spiritual."

Identify with people

– Jesus commands us to open our lives enough to let people know that we hurt, hope, and feel in the same way they do.

Listen to people

– This is what love is all about. When there can be an exchange of ideas, feelings and hurts we feel God's love through the other person.

Affirm people –

Jesus believe in people, affirmed them, called fishermen to be apostles, loved prostitutes, Pharisees and Samaritans. People found hope because of their relationship with Jesus.

Share decision making

– We honor other people when we let them in on planning. Include those involved in setting goals and determining strategy.

Don't try to change people

– The people who've helped us most probably isn't the advice givers.

Love specifically

– Love one person at a time. We bog down when we try to love everybody. The whole Kingdom of God came about because Jesus spent 3 years in deep relationship with 12 men.

Ask for help

– Be willing to receive help from others. Jesus asked for water, help, and companionship. If we're willing to ask for help, we can launch into new areas of ministry where we have no expertise.

Love in terms meaningful to the other person

– Give what is wanted, not what you enjoy giving.

Don't play it safe

– Any meaningful relationship requires a high degree of vulnerability. There is risk in loving – the risk of being laughed at, misunderstood and rejected. To love deeply means that there will be hurt and conflict. But God is with us and we can find His answers.
With God's help, let us start, even today, to practice the "Jesus style" in all our relationships at home, work, school and play.
Pastor Bob
WORSHIP IN JUNE
1st 3rd Sunday After Pentecost/Communion
Scripture: Psalm 96
Message: "If You Can't Sing It"
8th 4th Sunday After Pentecost/Children's Day
Scripture: II Timothy 1:3-7
Message: "A Funny Thing Happened on the Way Home From Church School"
15th 5th Sunday After Pentecost/Father's Day/Missionary Visit
We will be hosting Tamera and Ed Schreur, RCA missionaries in Oman where they run a counseling and pastoral ministry. They are one of our 3 missionary families which we help support. They will be sharing during worship and at coffee hour.
22nd 6th Sunday After Pentecost/Hymn Sing Service
We will have a musical worship service built around the "top 5 popular hymns" as chosen by the congregation. Join us in learning the story behind these great hymns.
29th 7th Sunday after Pentecost
Scripture: Matthew 5:1-12
Message: "The Blessings First!"
---
<![if !supportLineBreakNewLine]>Search Committee Report <![endif]>
<![if !supportLineBreakNewLine]>We are happy to report that we have turned the corner in this process and will be interviewing two highly qualified candidates this month. We have spoken to both via conference calls.... we still like them and they still like us! They are different in many ways yet both bring strengths that you indicated we need. PLEASE continue to pray for us and them, seeking God's direction and His will for our congregation.<![endif]>
<![if !supportLineBreakNewLine]> <![endif]>
Don't Miss Out on the Fun
Our church is a family that works together. We, on the Stone House Day Committee, thank those who have already volunteered to help make Stone House Day on Saturday, July 12th, a success for our church and enjoyed by many. For those not involved, so far, join the fun with the rest of us. The following areas that need your assistance are:
Advertising---Flyers and small posters tell people of the event. We have many places that are happy to let us display them. All we need is many hands to go to these spots. Starting with May 25 you may pickup the flyers and posters in Schadewald Hall during coffee hour. We will also have them for several Sundays thereafter. Running ads is very costly so we have to keep it at a minimum but "posting" our literature is very effective.
Kitchen----involving food preparation on July 11 & 12 and the baking of desserts. Sign ups after church.
Hostesses/Hosts----We have something new for hostesses/hosts. We are having a coaching/training session on June 8th for all those that would like to participate. Costumes are available for you so, call Ellen Richards 331-0674 and she will give you all the details.
Parking---giving directions on where to park in the church parking lot. Call Jim Craven 331-6140
Take down & Put Away---removing signs and barricades at the end of Stone House Day. Call Jim Craven 331-6140
We could also use more framed cross stitch pieces to put on display on Stone House Day. Call Lori Baker 331-6549
There are extra events besides the houses to tour and enjoy.
The 3rd Ulster Militia and their encampment on the parsonage lawn.
Salmagundi—an instrumental ensemble playing music from the 1700-1800's, in period attire in the Patentee Manor.
Organ recitals by Lonnie Kulick, organist.
Cross stitching lessons and a project to take home to finish by Lori Baker in the parsonage.
Debbie Zuill will reenact Sojourner Truth's "Ain't I a Woman?" An eye opening performance!
Of course we also have Grandma's Garret, the Jewelry Sale, and Homemade Baked Goods.
More townspeople are involved in Hurley Library book sale, Hurley Heritage Museum, Hurley Genealogical Society, two antique shops, and various yard sales.
Be sure to join in the fun yourself and tell everyone about it because the best advertising is by work of mouth.
If you are not able to participate as a volunteer, you and your friends and family may purchase tickets at a discounted price online at www.StoneHouseDay.org or at the Ben Franklin stores in Kingston and Saugerties or contact Pat Baker 331-2556.
Remember "many hands make light work and a close- knit church family."
Stone House Day Committee
----------------------------------------------------------------------------------------------------------------------------
Pew Hinges
On May 18 the Youth Group & Women's Guild put on a luncheon for the church to raise money for new church pew hinges. A great gathering of approximately 55 people stayed, for a great variety of food and fellowship. We were able to raise $457 for these new hinges. Thank you to everyone in making this a great success!!
Sandy Emrich, President Women's Guild
Sunday, June 15
Welcome our Special Guests
Tamera and Ed Schreur
The Schreur's are one of the three RCA Partners in Missions we support through our benevolence giving. Tamera and Ed run a counseling and pastoral ministry in Oman and will share more about their mission during our worship service on June 15. So be sure to join us and stick around after worship for a special coffee hour in their honor. If you want to learn more about the Schreur's mission you can read their profile on the Missions page of our church website at www.hurleyreformedchurch.org.
Stone House Day Hosts and Hostesses
There will be a Training Session for hosts and hostesses in Schadewald Hall on June 8th at 11:30 right after Sunday Services. We will have a docent from one of the area's historical mansions come and give us some guidance regarding the do's and don'ts of hosting on Stone House Day. If you have done it before, you might have a few words of 'wisdom' from past experiences to share with us all. You will also be able to pick up information about the house you are hosting on Stone House Day (July 12). If you have any questions, like where or when you will be on that day, call or see Ellen Richards (331-0674).
<![if !vml]>

<![endif]>
Youth Group
The items that we will be collecting for the month of June will be Macaroni & Cheese for the local food pantry. This will be the last collection until September. We thank you for all of your help in all of the ways that we asked of you! During these difficult times the pantries really appreciate our support.
We will be taking the summer off to be with family & friends, but we are already busy planning for our events starting back up in September. We would like to thank our President-Katie Emrich for all of her past service. Since she will be graduating she will be leaving that position, but she will still be with us a leader.
Our upcoming events:
06/07/08: Yard Sale & Car Wash: 8am till 1pm
06/29/08: Churchwide End of the year picnic at Rosendale Rec Center
09/07/08: Selling calendars & note cards
09/14/08: Meeting
10/03/08: Youth Group get together 6pm
10/24/08: Penny Social
If you see an activity & would like to be a part of it, we would love to have you!!
Sandy Emrich & Lisa Longto
---
It is finished….maybe
We did it!! With your help we collected 10,033 soda cans & bottles. We raised $501.65 for the American Cancer Society from this alone!! Thank you…thank you!!

You might be saying to yourself…great now I have to take them to the store again?? Well, no you won't as we will be taking the summer off from this fund raiser & start up again in September. Yes, we will do this all again in September. So, don't go to the store just yet!! Hold them still September & then bring them on in!! Thanks!!
Katie Emrich
*****************************************************
<![if !vml]>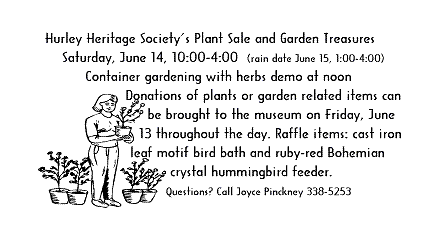 <![endif]>
*****************************************************
Church Picnic Sunday 6/29, from noon till 5pm.
It is not too late to sign up for the church picnic.
The picnic will be held at the Rosendale Youth Center located on Route 32 in Rosendale.
Please, sign up after church or just come that day. Bring an item to share and enjoy the fun. Do not forget to bring a basketball, baseball glove/ball/bat, Frisbee, or whatever other outdoor item you would like. Swimming will be available for a fee—so don't forget that either.
Plus, the sunscreen . . . See you there!
GOLF
Save the date – August 2nd – at 3:00pm for our 2nd Annual Hurley Reformed Church Golf Open. Beginners are welcome to play in a Scrambles format followed by a Buffet at the Hurley Mountain Inn.
BERM
We will be meeting at the Berm to weed on the 1st and 3rd Tuesdays of each month at 8:30am. Our Berm (the one with the flags) is the 3rd one north of the Hurley bridge. A letter from Supervisor Gary Bellows thanks the members of the Hurley Reformed Church for the good job we have done with our Berm. We hope you can join us!